Best Flower Gifts for Birthdays
The best gift to get someone for their birthday is what they need. Flower gifts are often given either as a main or accompanying gift and are effective in conveying the necessary message.
However, there are various reasons why you might not be in a position to get them the perfect gift.
You might not know what the person really needs and you don't want to ask them" it would ruin the surprise."
They might want an expensive gift like a car and it's well out of your budget.
There are many cool and inexpensive flower gifts you can get a family member or loved ones at a price range that won't make you consider breaking a bank.
Flower bouquet gifts
One of the best ways to let someone know that you are thinking of them is a beautiful bouquet of flowers. The flowers you choose should be able to reflect the person you are giving them to.
The best way to achieve this is to give them their favorite flower. Although this is the case, in reality, the majority of gift givers don't know or have forgotten the person's favorite flower.
The next best thing to do to narrow down the choice (there are practically thousands of flowers) is to choose a flower that reflects the personality of the recipient.
If they are excitable, dramatic you could go with bright colors such as yellow, red and orange.
For the sophisticated, graceful, innocent recipients, you could go with soft colors such as white, deep red and single colored bouquets.
It is also good to ensure the flower color you choose sends the right message. Read here on the meaning of flower colors especially if you decide to send roses.
Birth month flower gifts
The other alternative is to get the person their birth month flowers.
Every birth month has a flower associated with it. Most people know their zodiac signs, birth month stones but few know their birth month flower. Here is a list of the birth month flowers.
| | |
| --- | --- |
| Month | Flower |
| January | Carnations or snowdrop |
| February | Violet or Primrose |
| March | Daffodil |
| April | Sweet Pea or daisy |
| May | Lily of the valley or hawthorn |
| June | Rose or honeysuckle |
| July | Larkspur or water lily |
| August | Gladiolus or poppy |
| September | Aster or morning glory |
| October | Marigold or calendula |
| November | Chrysanthemum or peony |
| December | Poinsettia or narcissus |
If you cannot figure out the person, you can just get them a traditional bouquet with a mixture of flowers such as roses, tulips, lilies among many others.
Long lasting flower gifts
If you are a practical person (not implying that those who gift flower bouquets are not), you can get the person a plant instead.
You should focus on a plant that will require minimum care. Also, consider the size of the plant, you don't want your gift to be a bother rather than a delight.
A houseplant will last for a long time and will be a constant reminder of the special day. The plant is a good gift especially if you were considering getting them a pet and find out that they can't have one for one reason or the other.
Click here and shop different types and sizes of succulents or cactus. You are bound to find something cute for that lasting gift.
Artificial flower gifts
The other alternative is to get the person an artificial flower related gift. The selection is wide and can vary depending on what you think the person might appreciate.
An immortal flower, for example, is not only cool but also unusual.
Inspired Gift Baskets
The gift of a flower inspired gift basket is an awesome gift especially if the recipient is a lady. The gifts vary in size and components and you can always choose depending on the message you want to communicate.
Customized flower gifts
The next alternative is to get the person customized gifts such as a cup. Customized gifts are not only cool but unique because you can add their name or unique message. The cup can have the message that you intend to communicate to the person.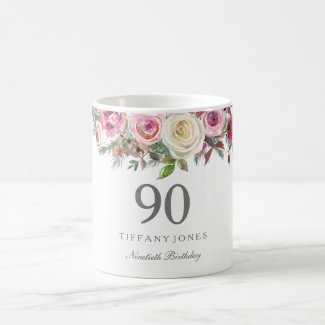 Elegant White Rose Pink Floral 90th Birthday Coffee Mug
Additionally, the person will have the cup for a longer time (unless they are clumsy and they break it the first day and blame the dog).
You can also get them a customized t-shirt, hoody. The message can be as complicated or as simple as you want it to be.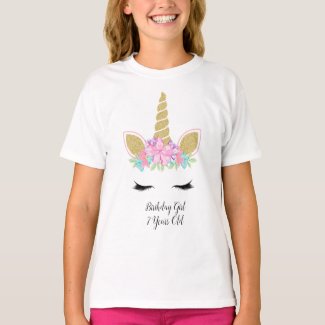 Magical Unicorn Face Floral Birthday Girl Outfit T-Shirt
You could also get them an awesome hat with a personalized message.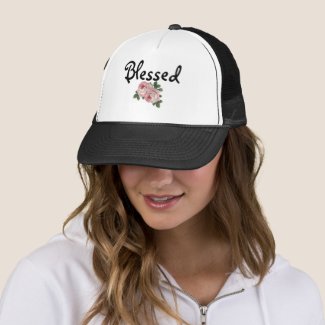 Blessed Floral Trucker Hat
Let's just say, the possibilities are endless and the room for flexibility is limitless.